Blog 11-28-21
Steam Autumn Sale 2021
Ni no Kuni II: Revenant Kingdom - The Prince's Edition
I played the prequel of this game on PS3 platform, but haven't completed it yet. I shouldn't play the sequel before completing the first game, but the sale of 85% is too good to miss, so I buy it beforehand.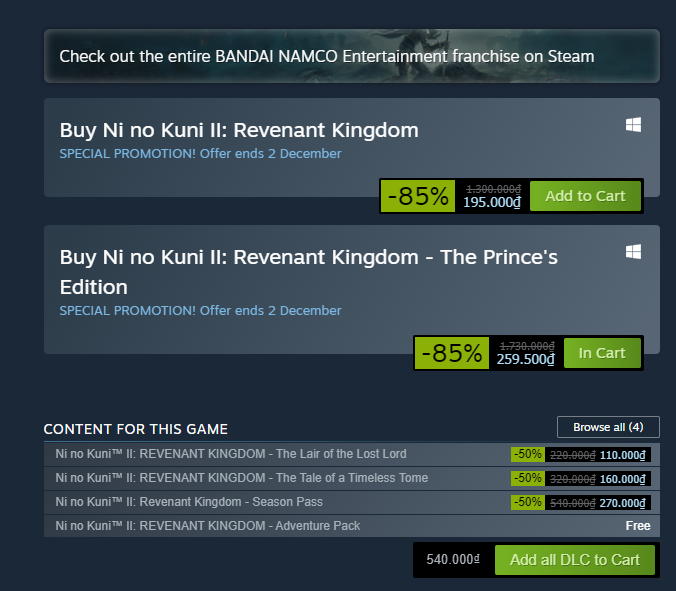 Shantae: Half-Genie Hero Ultimate Edition
This was on my wishlist for so long, so I decide to purchase it too.

Steam EXP
Let's see how much EXP I will gain after buying those two.

After: (The gain was 10 EXP per game)

I think of getting Death Stranding And Megaman 11 too, but maybe they're gonna sell off more in the winter sale, and I don't have time to play them right now…


---
Enderal Forgotten Stories OST
A great addition by Marvin Kopp to the already fantastic Enderal OST. Most if not all tracks are quite somber and emotional, though there are a few more action-packed ones. It's free and I thoroughly recommend you give it a listen.
store.steampowered.com/app/1027920/Enderal_Forgotten_Stories_Free_OST
This is a fantastic game with a rich story and an immersive world… Yes, there are a few rough edges in the mechanics and other elements, but for a free game, it's fantastic!
---
Random list
From Tools showcase on Discord.
---
Amateur Game Dev General /agdg/
Models/art/textures/sprites
Free audio https://freesound.org/browse
How to Webm

https://gitgud.io/nixx/WebMConverter